Day 2 :
Keynote Forum
Nelson Marlbourough Institute of Technology,New Zealand

Biography:
Chris completed her Masters in Nursing (Clinical) in 2014 and is a Senior Academic Staff member within the Department of Health and Fitness team at Nelson Marlborough Institute of Technology where she co-ordinates the first year of the Bachelor of Nursing programme. Chris's research interests prodominately focus on supporting undergraduate nursing education and include attrition strategies and the use of technologies for learning. Her clinical interests are based on her passion to promote best practices in Aged Care and specifically the person with dementia.
Abstract:
Keynote Forum
Zhejiang University,China
Time : 9:30-10:00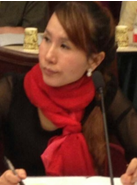 Biography:
Fang Yang has completed her Ph.D. from the Second Millitary Medical University and Postdoctoral studies from the University of Edinburgh, School of Nursing. She is now been as the Professor of Nursing as well as Associate Dean of School of Nursing of Zhejiang University City College, China. Also she is employed visiting professor of School of Nursing, Midwifery & Social Care of Edinburgh Napier University, UK from 2014 till now. She has published more than 60 papers in reputed journals and has been serving as 6 editorial board member of repute including 3 international journals.
Abstract: